A lot can be said about where this board falls into place at it's given price point with rich features for overclocking and gamers alike. But since I'm more into the overclocking aspect and less into the gaming I thought I would put this board through it's paces and see how well it stacks up against other Z77X boards I've tested so far.
The first thing I noticed was how easy the memory overclocking was and how high I was able to overclock while maintaining stability.
The memory sticks I'm using are Team Group TXD34096M2400HC9N-L 9-11-11-28.
This kit will run 2600 10-12-12-28 no problem and these settings were tested on 3 other Z77X Gigabyte boards and the same holds true with this amazing board. I tried to push the 3770K as much as possible on a custom water cooling loop but didn't go overboard on voltages because I wanted to maintain good temperatures while testing and running benchmarks.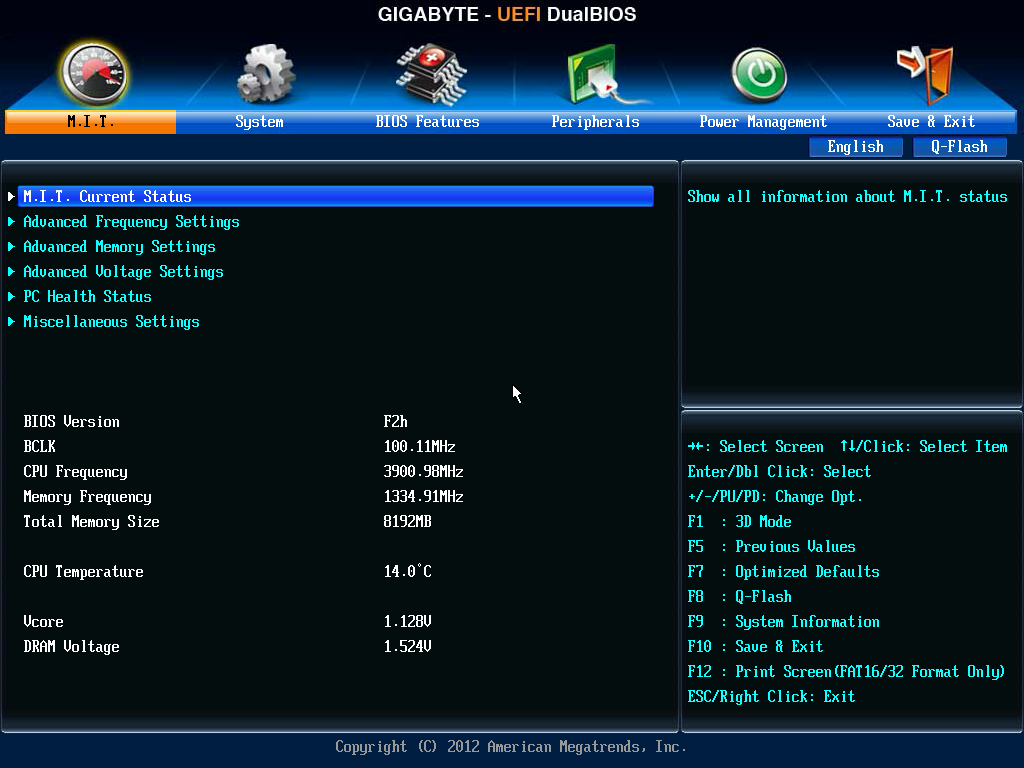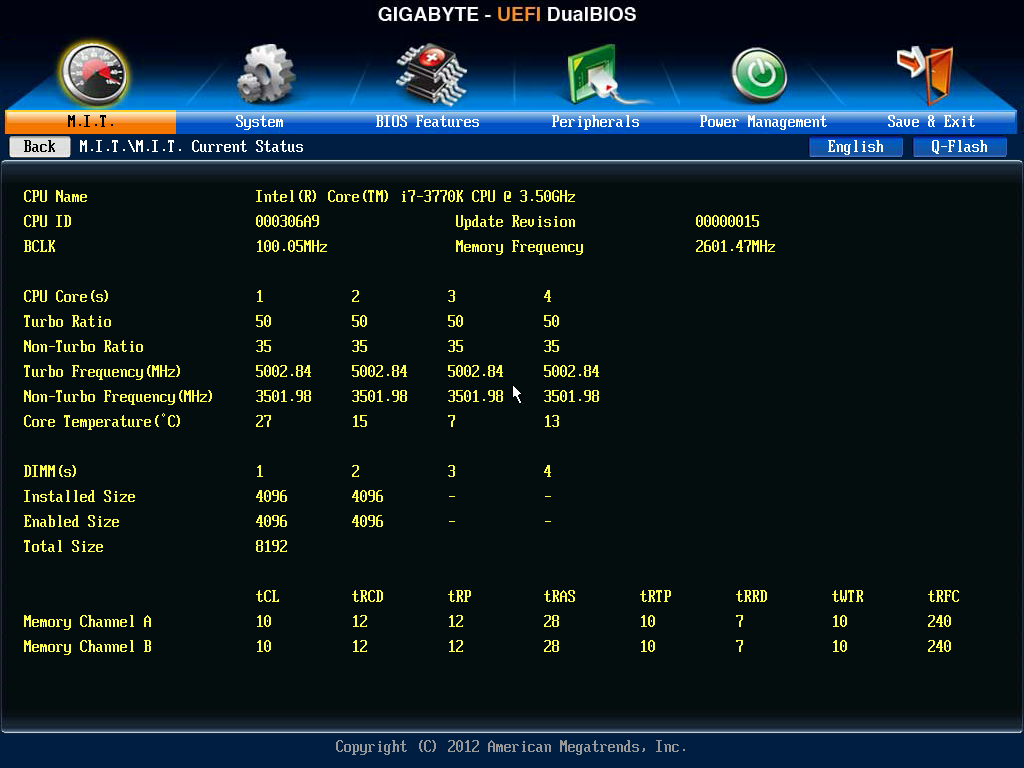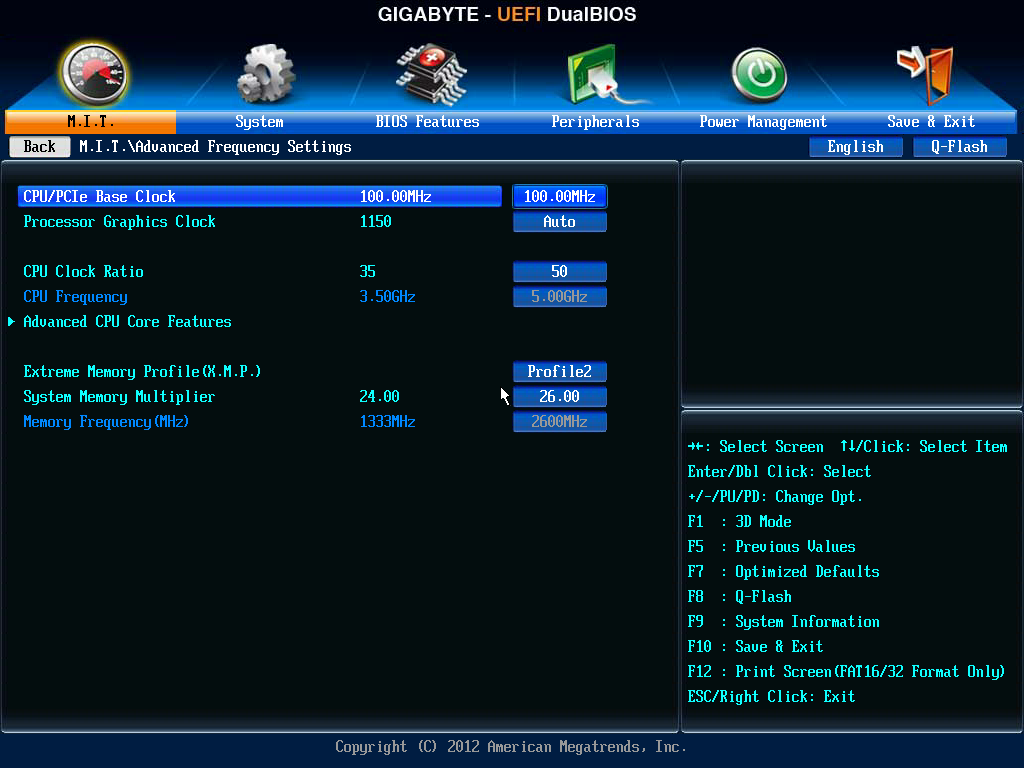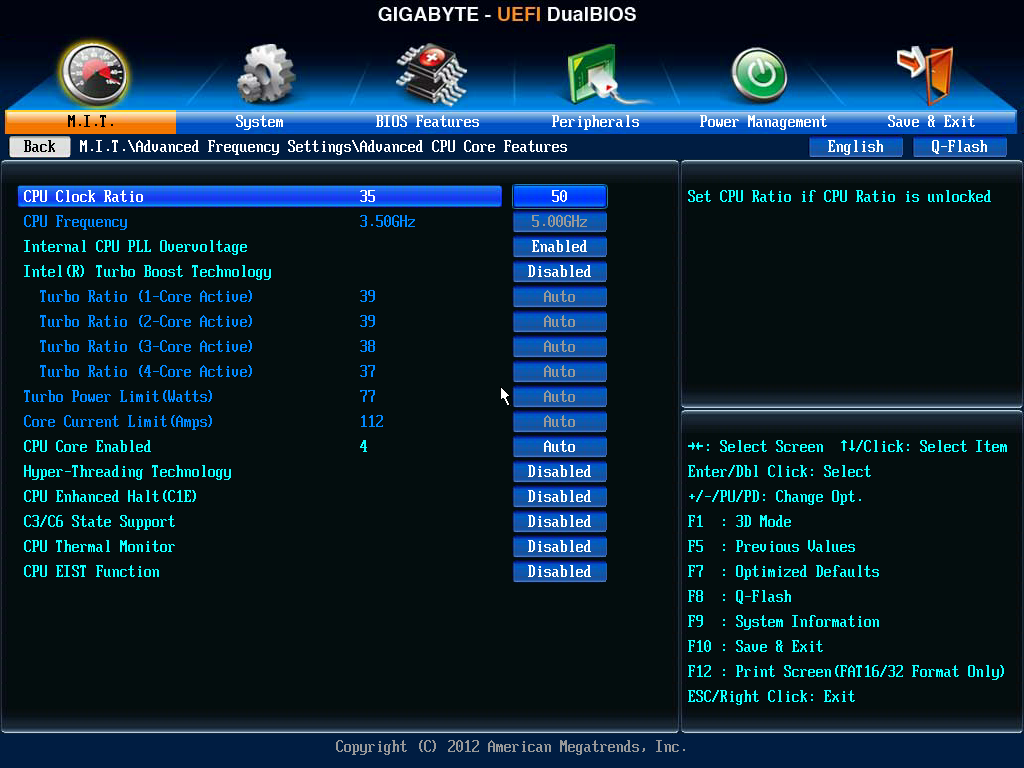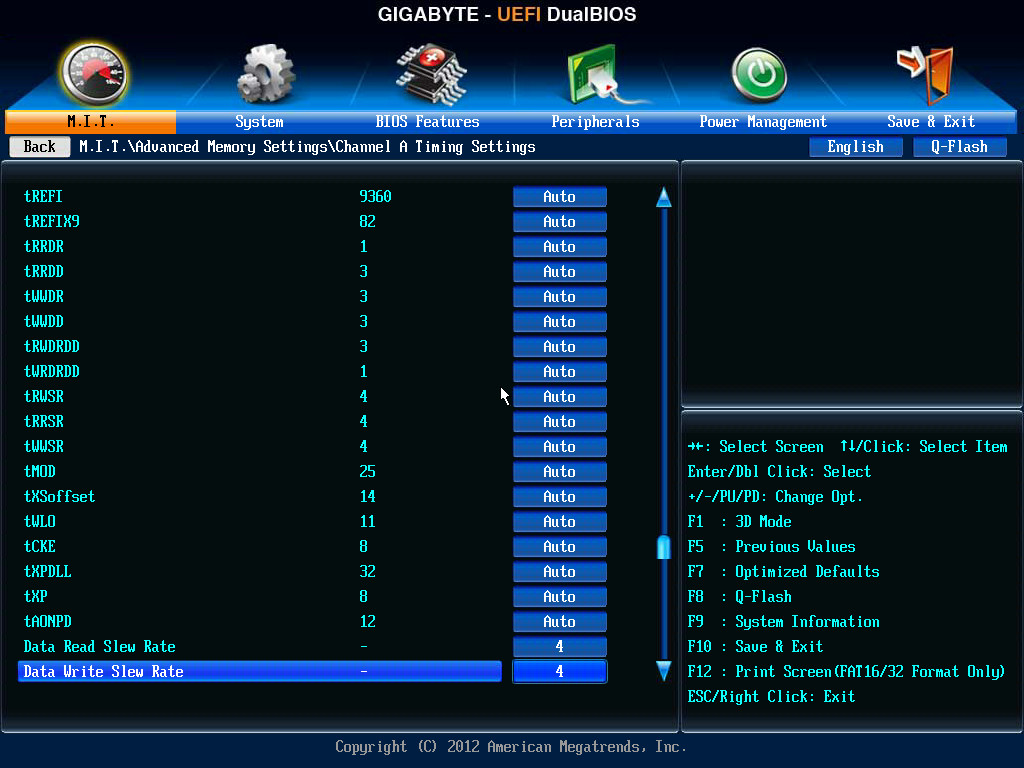 As you can see in the above images, Minor adjustments were made to obtain the clocks that I was testing at.
As you can see here 5Ghz and 2600 Memory was easily obtainable with good voltage.
So here are a few benchmarks that I tested.
Hardware Test Bed.
Z77X-UD4H
i7 3770K
Team Group TXD34096M2400HC9N-L 9-11-11-28
MSI HD 7970 Lightning
Detroit Thermo DT 5Noz cpu block
Antec HCP-1200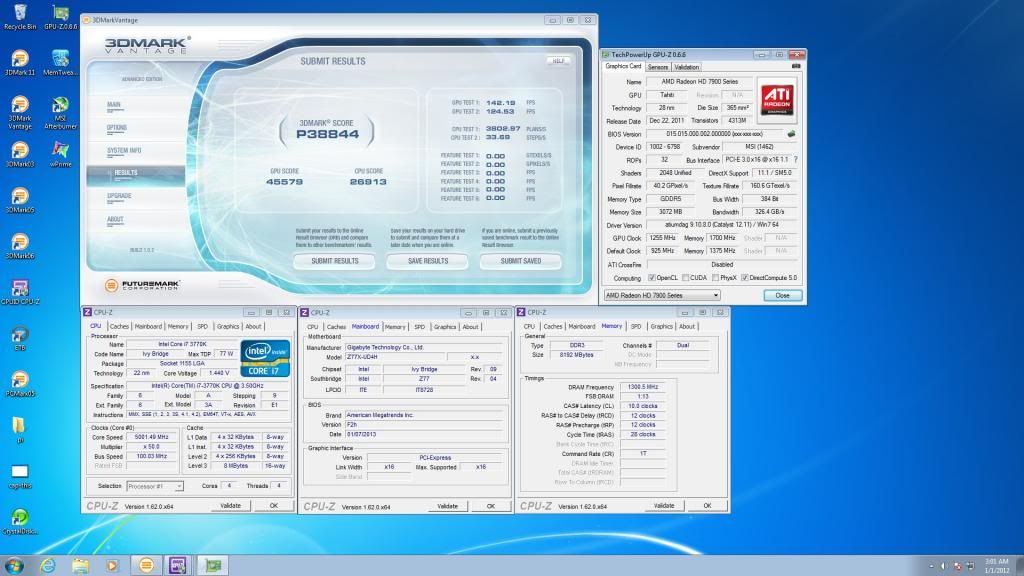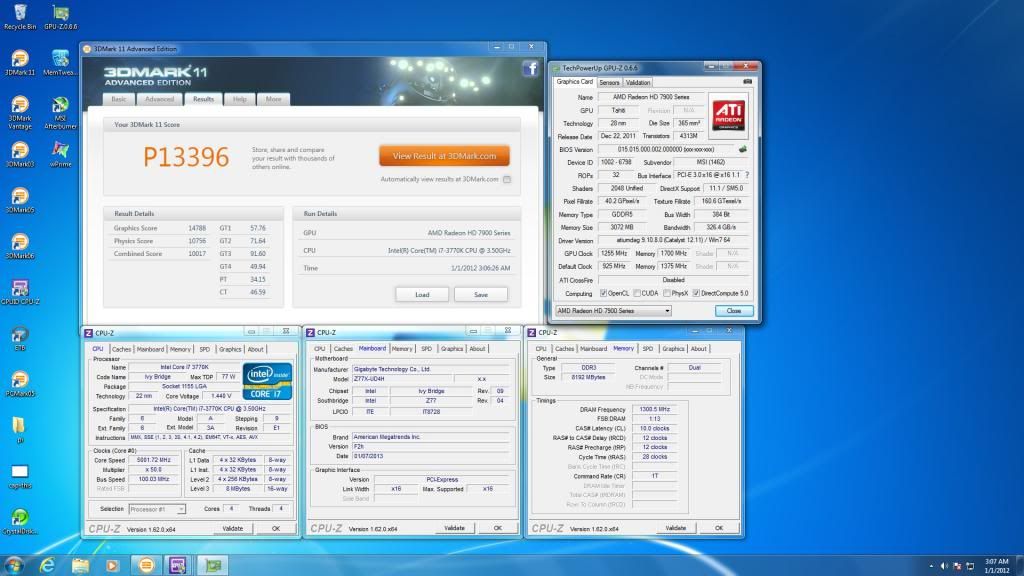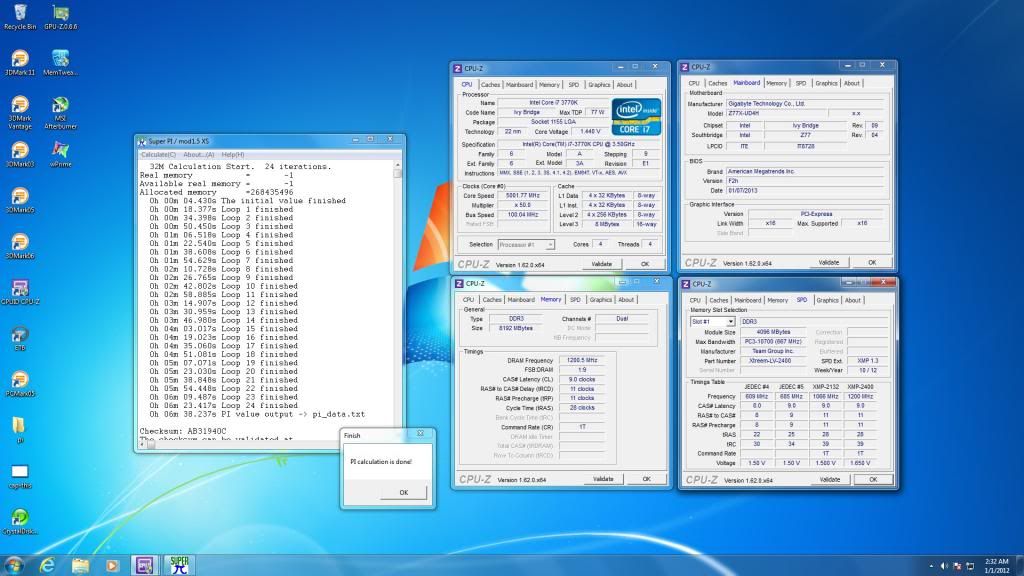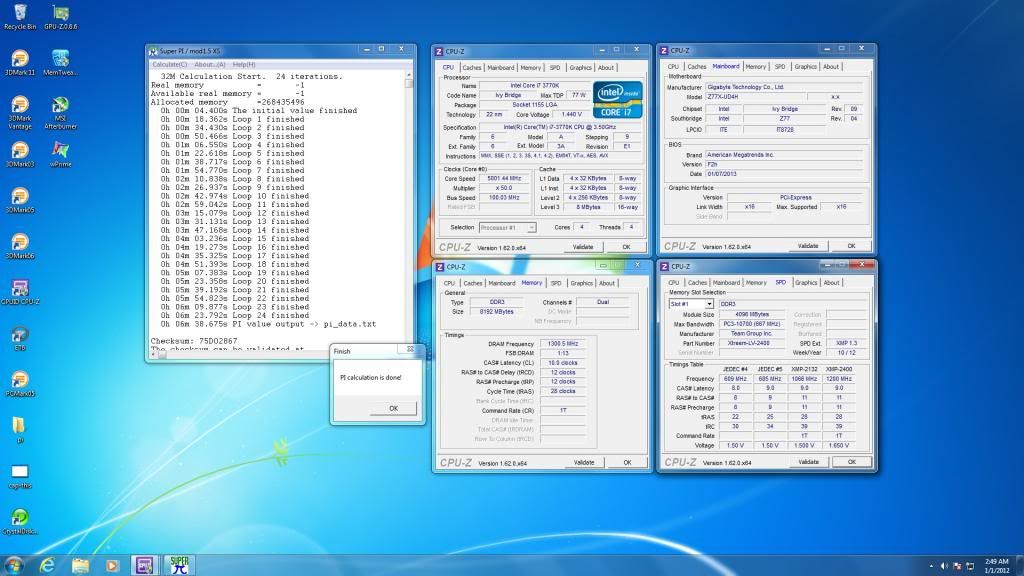 Conclusion:
Setting up this motherboard was super easy and straight forward with no problems. This motherboard booted up on the very first boot and installing all the needed drivers went smoothly. In the past on Z77 motherboards and doing fresh windows installs you needed PS/2 keyboards and a mouse because of driver issues, This board has 2 available USB slots on the I/O that are just for this issue, Big thanks to Gigabyte for addressing this concern that many people had.
With the overclocking ability on this motherboard the sky is the limit to how far one can really push their system.
I really have only spent a small amount of time playing around with the features and the settings and find it very user friendly and very simple to overclock on. I will continue to test with "LN2" and post some results but for now the average consumer using a nice custom water cooling loop can see what they can expect from such a great motherboard by a great company like Gigabyte.
I want to personally thank Gigabyte and their Team for making this review possible.